in order to degrade the lion, the tiger fan side carefully selected a collection of images and used them to suggest that the tiger has much longer and thicker canines than the lion. however, selectively posting a few photoshopped skull images is by no means evidence.
this is a much better comparison of the relative canine size in the lion and the tiger - it features a smallish 224 mm X 330 mm skull of an old lion (actual skull size scaled up to 265mm by 390mm) which is placed together with that of CN19, a panthera tigris specimen.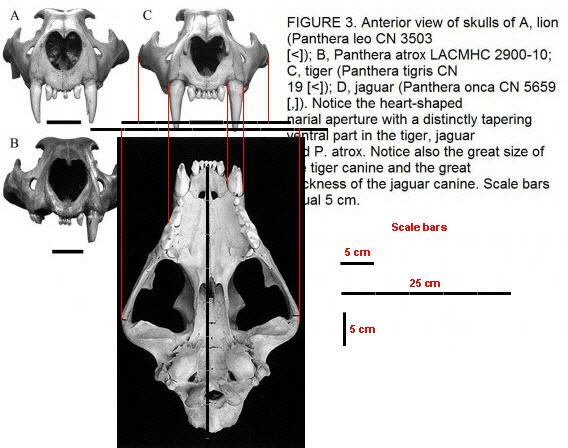 note that the lion's canines are every bit as thick as the tiger's, even though the rostrum of the tiger is noticeably broader. thus, the claim made by the "on-line tiger expert" ji mazák (aka ji huang) that just because the tiger has a relatively wider muzzle (doubtful) it automatically means its canine teeth are larger is refuted.
btw, is there anyone here who can explain to me why CN19 appears to have a zygomatic width of less than 200 mm in christiansen's photograph??
if i remember correctly, christiansen claimed that the crown height of CN19's upper canine was about 70mm.
i find it hard to believe that such a tiny skull could contain those enormous canines.